Lesley Aitchison - Ambra Books
 22 West Shrubbery,   Redland,   Bristol   BS6 6TA,   U.K.
Telephone :- ( 0117 ) 9076899
Telephone International :- 00 44 117 9076899
Email :- lesley@localhistory.co.uk
---
Maps, Plans, Manuscripts, Documents, Engravings, Photographs, Ephemera, etc.
---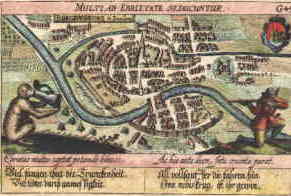 Brightstowe (Bristol) in Engelland by C.L. c1624.
---
I specialise in Buying and Selling Maps, Manuscripts, Engravings, Ephemera etc., relating to local history,
family history, architecture, etc. and issue regular catalogues.
The catalogues contain a wide range of material including account books, diaries, documents, deeds,
plans, maps, (printed and manuscript) including folding, large scale, and ordnance survey,
auction and estate sale particulars, early photographs, albums, prints (lithographs, aquatints, copper, etc.).
and Acts of Parliament

Selection from my stock. [ To view each page ]  
---
These pages represent a sample of my stock.
If you wish to receive my LOCAL HISTORY catalogues by email, or if you have any specific items that you are looking for,
or that you wish to dispose of, please email me at:- lesley@localhistory.co.uk
---
Back to the Top
---
Copyright © Lesley Aitchison 2019. All rights reserved.