Ambra Books Home page
CORNWALL Books
PAROCHIAL AND FAMILY HISTORY OF TRIGG MINOR
in the County of Cornwall
ST. MABYN and MICHAELSTOWE


By John Maclean - 1875


---
Sample text :-
' PARISH OF ST. MABEN alias ST. MABYN.

The Parish of St. Mabyn, which derives its name from the dedication of the Church, contains by admeasurement 4067a. 2r. 7p. It is irregular in form, and is bounded on the north by St. Tudy, on the east by Blisland, on the south-east by Helland, on the south-west by Egloshayle, and on the north-west by the last named parish and St. Kew.

The land, generally, is fertile and adapted either to pasture or corn. The chief land owners are : The Viscount Falmouth, the Trustees of the late Sir William Molesworth, John Tremayne of Heligan, Esq., the Heirs of the late John Peter-Hoblyn, Esq., Francis John Hext and Richard Hambly Andrew, Esqs., and Mrs. Hooper. There is no other industry practised than the culture of the soil. Laborer's wages are 12s. or 13s. a week, and sometimes they have a cottage and garden free of rent. Besides this there are about two acres of land, contiguous to the Church Town, let as garden allotments, in portions of ten perches each, at five pence the perch.

The geological character of the parish is precisely the same as that of the neighbouring parishes of Egloshayle and St. Kew, being altered Devonian traversed by beds of greenstone lying nearly north and south; whilst two el van dykes, issuing from the granitic formation at Trehudreth, in Blisland, protrude into this parish in parallel lines, in a westerly direction, one of them reaching nearly to the centre of the parish..... '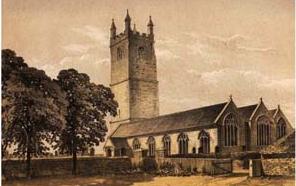 ST. MABYN CHURCH.
---

If you require this work and cannot find a copy on the site :- CORNWALL [ Selection of Antiquarian and Secondhand Books ]
then please e-mail me [ Ivor Cornish ] at:- ambra@localhistory.co.uk and I will let you know if a copy has recently turned up, or if I can obtain one.

We specialise in buying and selling WEST COUNTRY and CORNWALL books.


---
CORNWALL :-
Selection of manuscripts, maps, ephemera etc. for sale from
Lesley Aitchison.
---
AMBRA BOOKS Home page
---
Copyright © Ambra Books 2003. All rights reserved.