Ricart's Plan of Bristol 1479.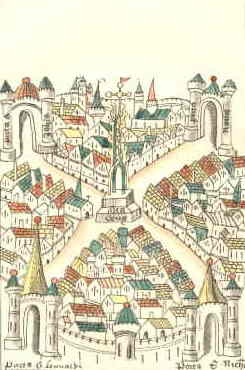 Ambra Books
[ Ivor Cornish & Lesley Aitchison]
 22 West Shrubbery,   Redland,
 Bristol   BS6 6TA,   U.K.
Telephone :- ( 0117 ) 9076899
E-mail:- ambra@localhistory.co.uk
BRISTOL -- CORNWALL -- DEVON -- DORSET

GLOUCESTERSHIRE -- SOMERSET -- WILTSHIRE

General WEST COUNTRY and other topography
I specialise in Buying and Selling Antiquarian and Secondhand Books,
relating to the above counties, and issue regular catalogues.
The catalogues contain a wide range of subjects relating to each county,
and include works on history, (local, industrial, mining and social)
topography, genealogy, archaeology, geology, agriculture and natural history.

I operate from private premises.
All of the books are not immediately to hand
so if you wish to view it is advisable to ring first.


MAIN STOCK - Selection of Local History stock (to view each page).  

Clearance Stock with DISCOUNTS - Selection of Local History stock (to view each page).  

Latest Clearance List with 20% DISCOUNT.  

Samples of text from a selection of books.  

Selection of Miscellaneous Subjects.  

Selection of items I wish to purchase.  

Ordering  

Links to other sites.  

Site Updates - Automatic notification.  


Lesley Aitchison's selection of Maps,
Manuscripts, Ephemera, Views etc. for sale.  


---

Not all of my stock is on line.
If you wish to receive my latest WEST COUNTRY catalogues, or if you have any specific items that you are looking for,
or that you wish to dispose of please E-mail:-
Copyright © Ambra Books 2023. All rights reserved.